Donald Trump-era ban on TikTok dropped by Joe Biden
President Joe Biden has revoked an executive order from his predecessor Donald Trump banning Chinese apps TikTok and WeChat in the US.
The ban faced a series of legal challenges and never came into force.
Instead, the US Department of Commerce will now review apps designed and developed by those in "the jurisdiction of a foreign adversary", such as China.
It should use an "evidence-based approach" to see if they pose a risk to US national security, Mr Biden said.
Mr Trump ordered the ban on new downloads of the viral video app TikTok, which is owned by Chinese firm Bytedance, in 2020.
He described it at the time as a threat to national security.
A proposal was produced that would have seen Oracle and Walmart owning a US entity of the service, and taking responsibility for handling TikTok's US user data and content moderation.
But a series of legal challenges, and the fact Mr Trump was due to leave office shortly afterwards, meant neither the ban nor the involvement of the US companies ever came to fruition.
Data collection
In his new executive order, President Biden said that the federal government should evaluate threats posed by China-based apps and software through "rigorous, evidence-based analysis", and should address "any unacceptable or undue risks consistent with overall national security, foreign policy, and economic objectives".
He acknowledged that apps can "access and capture vast swathes of information from users".
"This data collection threatens to provide foreign adversaries with access to that information," he said.
TikTok is used by about 80 million Americans every month.
Ashley Gorski, a senior lawyer at the American Civil Liberties Union (ACLU), welcomed the decision to overturn the ban.
"President Biden is right to revoke these Trump administration executive orders, which blatantly violated the First Amendment rights of TikTok and WeChat users in the United States," she said.
"The Commerce Department's review of these and other apps must not take us down the same misguided path, by serving as a smokescreen for future bans or other unlawful actions."
Next week, President Biden is due to meet European Commission President Ursula von der Leyen, and the two are expected to announce a partnership around technology and trade, in an attempt to push back on China's rise as a technology superpower.
It is likely the partnership will include joint standards around emerging technologies, as well as commitments to take firmer action policing the internet, and to act on the critical supply chain issues that have arisen during the Covid pandemic.
BBC
Aussie Billionaire James Packer's Crown Resorts Gets $2.4 Billion Funding Offer From Oaktree
Crown Resorts said Tuesday it had received a revised proposal from Oaktree Capital Group for the provision of A$3.1 billion ($2.4 billion) in funding to buyback the shares held by its controlling shareholder James Packer amid intensifying regulatory scrutiny down under.
Under the revised offer, Oaktree is proposing to use the funding to buy some or all of the Crown shares held by Packer's Consolidated Press Holdings, Crown said in a statement to the Australian Stock Exchange. The funding comprised of a A$2 billion private term loan and a A$1.1 billion loan convertible into Crown shares at a strike price of A$13 apiece, it said.
Crown, which is owned 37% by Consolidated Press, said its board has not yet formed a view on the merits of Oaktree's revised proposal. Oaktree originally proposed a A$3 billion facility to buyback Crown shares.
"Crown shareholders do not need to take any action in relation to the revised Oaktree proposal at this stage," Crown said in a statement. "There is no certainty that the revised Oaktree proposal will result in a transaction."
Oaktree's latest proposal comes a week after the Australian Transaction Reports and Analysis Centre (Austrac) widened anti-money laundering probes on casinos down under. Austrac, which has been looking into Crown's Melbourne operations since last year, is also now investigating Crown Perth, Star Entertainment Group and Auckland-based SkyCity Entertainment Group, which operates a casino in Adelaide.
Star, the only casino operator in Sydney, mounted a A$9.5 billion bid last month to merge with Crown that would create a A$12 billion casino giant.
Crown rejected the A$8.4 billion all-cash offer from Blackstone Group shortly after receiving the merger proposal made by Star.
Austrac said last week it has initiated formal investigations into potential breaches of anti-money laundering laws by Crown Perth. Regulators have been investigating Crown Melbourne since October 2020, while Crown Sydney's gaming license was suspended in February this year.
Packer is the largest shareholder of Crown, which owns casinos in Australia and London, after taking over the empire of his late father, Kerry. He stepped down from the company's board in March 2018 and resigned from the board of his family's holding company Consolidated Press four months later. Packer, 53, is Australia's 14th richest individual with a net worth of $3.6 billion, according to the World Billionaire's List published in April.
Source: Forbes
Boeing-Airbus trade row set to end after 17 years
Boeing-Airbus trade row set to end after 17 years
The US and the EU have agreed a truce in a 17-year trade dispute over subsidies for Boeing and Airbus.
Under the agreement, both sides will remove taxes on $11.5bn (£8.2bn) of goods, including wine, cheese and tractors, for five years.
Those tariffs, imposed by both sides as punishment in the escalating dispute, had already been suspended in March while they tried to resolve matters.
In March the US suspended tariffs on UK imports arising from the dispute.
US President Joe Biden had a summit with European Union (EU) leaders on Tuesday, where he is trying to bolster support for his more assertive stance towards Russia and China, and move away from Trump-era trade rows.
"I think we have great opportunities to work closely with the EU as well as Nato and we feel quite good about it," President Biden said.
Both Boeing and Airbus said they welcomed the truce. Airbus said that the agreement "will provide the basis to create a level-playing field which we have advocated for since the start of this dispute".
"It will also avoid lose-lose tariffs that are only adding to the many challenges that our industry faces," the planemaker added.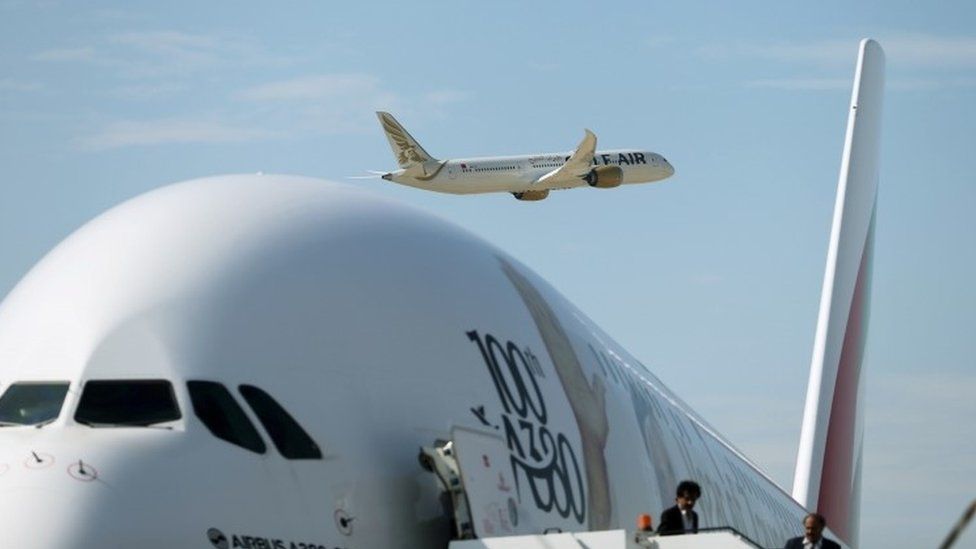 Boeing-Airbus fight
The dispute between the US and EU has escalated over many years, with both sides accusing the other of unfairly propping up their flagship planemakers.
In 2019, the World Trade Organization ruled that the EU had illegally provided support to Airbus, clearing the way for the US to respond with tariffs worth up to $7.5bn (£5.4bn) in annual trade.
Roughly one year later, in a parallel case, it ruled that the US benefits to Boeing also violated trade rules, authorising the EU to hit the US with tariffs worth roughly $4bn.
Since then, both sides have taken steps to remove the assistance found at fault.
The US and the EU have taken a much more conciliatory stance in the 17-year dispute since President Biden took over from predecessor Donald Trump, who imposed tariffs on the EU.
"This meeting has started with a breakthrough on aircraft," European Commission chief Ursula von der Leyen said. "This really opens a new chapter in our relationship because we move from litigation to cooperation on aircraft – after 17 years of dispute… Today we have delivered."
President Biden had a meeting with EC President von der Leyen and the EU's chairman Charles Michel, who represents EU governments.
"We're facing a once in a century global health crisis," President Biden said on Monday, while adding: "Russia and China are both seeking to drive a wedge in our transatlantic solidarity."
US Trade Representative Katherine Tai discussed the aircraft dispute in her first face-to-face meeting with EU counterpart Valdis Dombrovskis on Monday ahead of Tuesday's US-EU summit.
Freezing the trade conflicts would give both sides more time to focus on broader agendas such as concerns over China's state-driven economic model, diplomats said.
"We are strongest when we work with our friends and allies", Ms Tai said.
"Our goal was clear – to forge a new, co-operative relationship in this sector so that our companies and our workers can compete on a more level playing field."
The EU and the US are the world's top trading powers, along with China, but Donald Trump sought to sideline the EU.
After scotching a free-trade agreement with the EU, the Trump administration focused on shrinking a growing US deficit in goods trade.
President Biden, however, sees the EU as an ally in promoting free trade, as well as in fighting climate change and ending the Covid-19 pandemic.
In December, the UK said it would voluntarily suspend its tariffs on US goods imposed as parts of the Boeing dispute. The US responded in kind in March.
UK officials said they hoped for compromise talks, casting the measure as an example of the benefits to the UK's ability to act as an independent trading nation following Brexit.

The world has changed a great deal since 2004 – and this deal acknowledges that fact. Where once Airbus and Boeing had the large aircraft market to themselves, they now face a stern challenge from China.
Chinese manufacturer Comac is already in the final stages of developing the C919 – a plane designed as a direct rival to Airbus' A320 neo and the Boeing 737 Max.
Longer term, it has a partnership with Russia's United Aircraft Corporation, to develop a larger, wide-body jet.
Airbus's chief executive Guillaume Faury has already suggested that the duopoly in the aircraft market could become a 'triopoly' by the end of the decade.
So it makes little sense for either side to waste energy fighting yesterday's battles when they now face a common rival.
It's a microcosm of wider EU-US relations: faced with China's growing economic power and ever-frostier relations with Russia, there seems to be a realisation that old alliances need to be rekindled.
BBC
Alibaba's Jack Ma is 'lying low', says co-founder
China's best-known entrepreneur Jack Ma is "lying low" and avoiding the spotlight, according to an Alibaba executive.
Joe Tsai, who co-founded the Chinese e-commerce giant with Mr Ma, told CNBC he speaks to him every day.
"He's actually doing very, very well. He's taken up painting as a hobby, it's actually pretty good," said Mr Tsai.
Mr Ma has been noticeably absent after falling foul of China's regulators in November.
He had been set to become China's richest man yet again following the dual stock market debut of his digital payments company Ant Group – an affiliate of Alibaba – in Hong Kong and Shanghai, which was worth about $34.4bn (£26.5bn).
What was meant to be the world's biggest initial public offering was halted by Chinese regulators at the eleventh hour, citing "major issues" over regulating the company.
It is believed Mr Ma's criticism of the Chinese financial sector in October prompted the move.
Some analysts saw it as an attempt by Beijing to humble a company that had become too powerful and a leader who had become too outspoken.
At a financial technology conference, he had compared traditional banks to "pawn shops", lauding the merits of the digital banking system instead, as well as stressing that future lending decisions should be based on data, not collateral.
Ant Group runs Alipay, the main online payment system in China, which has eclipsed cash, cheques and credit cards.
Alibaba, which owns a third of Ant Group, saw its share price plunge on stock markets after the suspension was announced.
Antitrust probe
Following this, China announced an antitrust probe into Alibaba, which is China's largest e-commerce platform.
This culminated in Alibaba being fined $2.8bn by Chinese regulators in April, who said it had abused its market position for years.
And two days later, Ant Group announced a drastic restructuring plan, with regulators forcing it to act more like a bank than a tech firm.
Mr Tsai, who is also the executive chairman of Alibaba, said that he disagreed with the idea that Mr Ma had become a maverick-like figure.
"The idea that Jack has this enormous amount of power, I think that's not quite right," he said. "He is just like you and me, he's a normal individual."
He added that after all his efforts, Mr Ma now just wanted to focus on the things he really wanted to spend time on, like philanthropy work and hobbies.
However, Mr Tsai said the firm was moving forward: "I think you have to separate what's happening to Jack and what's happening to our business.
"Our business is under some kind of restructuring on the financial side of things, and also in antitrust regulation.
"We had to pay a big fine. But we've gotten that behind us, so we're looking forward."
BBC