How Harvard professor told Elon Musk to 'get out' of a meeting—here's how I won him over
The conventional wisdom is that high achievers are go-getters; they succeed because they're eager to get out there and show others how much value they can bring.
But what's often overlooked is that we sometimes don't even have the opportunity to do so. After years of researching how the most successful people turn adversity into advantage, I've found that the ability to "delight" is the key to opening doors.
But delight is much more than just bringing others joy or gratification. At the crux of delight is a component that most people miss: Surprise. Delight is in the unexpected.
Delight makes people pay attention
A few years ago, Byron, a close friend and collaborator of mine, attended a university commencement in which Elon Musk was giving a speech. Being the go-getter he is, not only was Byron able to luck his way into getting the billionaire's contact information, but he also managed to secure a meeting with him.
Since Byron and I were both researching the challenges of startups in the private space industry, he was kind enough to let me tag along. We wanted to ask Musk about his thoughts on the future of private space tourism.
Before the meeting, Byron and I read up on Musk's entire life history. We studied any current events he might mention and came up with thoughtful perspectives on all aspects of his business — not just SpaceX, but also Tesla, PayPal and Hyperloop. We even had a small gift to express our thanks for his time. We came prepared.
But all that hard work didn't make much of a difference, because not more than 30 seconds into the meeting, Musk told us, "No. Get out of my office." Completely disoriented, I stared at him blankly and asked, "No?" To which he replied, "No."
That's when I noticed it: Musk's eyes weren't on us. They were focused on the gift Byron was holding. As it turned out, Musk didn't realize we were academics. He thought we were just two entrepreneurs trying to get his money or endorsement for the company we were presumably starting, and that the gift was our product prototype.
The meeting was about to end disastrously — until I did something out of the blue that somehow humored him beyond belief: I giggled. "You think we're trying to pitch you, right? We don't want your money," I told him.
Most people probably would have nodded politely and left, but the giggling gave Musk pause. It wasn't premeditated, nor was it done in a condescending way. It was unexpected. It completely threw him off. And then he started laughing.
Truth be told, we crushed the meeting. We chatted, debated, riffed and even hugged each other on our way out. Upon leaving, Musk gave us the contact information of someone who headed up operations for SpaceX to help with our research.
Byron and I were set up to lose, but delight was the spark that intrigued Musk and convinced him to let us stay.
Mastering the art of delight
Not all of us are naturally gifted with the ability to delight. But it can be mastered with deliberate practice:
Do something unexpected. The best way to pacify skepticism that others may feel about you is to surprise them with spontaneity — in a memorable and engaging way.
Don't overprepare. While there's value in being prepared, doing it with rigidness won't get you very far. In fact, it can actually prevent the kind of natural conversations that allow you to connect with and delight the other person.
Work with what you have. Much of delighting is done when you're engaging with others in an authentic way. Use your existing context to hone your quick reflexes and help you with the delivery.
Immerse yourself in delight. Seek out people, products and situations that you consider delightful. Consciously pinpoint what makes them delightful to you. This will help you develop and refine your own style of delighting.
Use authentic humor. Don't confuse delighting with schmoozing. To delight is to genuinely engage and offer a playful, "in-the-moment" response. In fact, people who show a sense of humor at work are perceived as being warmer and more competent than those who don't.
Know and pay attention to your audience. Have a deep understanding of the circumstances and backdrop of the position — and place — you're in. This may take time to develop, but it's what allowed me to recognize that Musk saw Byron and me as just two scrappy entrepreneurs trying to sell him a product.
When we delight, we violate perceptions, but in a benign way. Delight unsettles and challenges beliefs about your context. It grabs the attention of powerful people and opens doors to enormous opportunities.
Laura Huangis an associate professor at Harvard Business School. Previously, she was an assistant professor at the Wharton School, University of Pennsylvania. Her research has been featured in the Financial Times, The Wall Street Journal, USA Today and Forbes. Laura's speaking and consulting clients include Google, Uber, BlackRock, Keystone and Bionic. "Edge: Turning Adversity Into Advantage" is her first book.
*This is an adapted excerpt from "Edge: Turning Adversity Into Advantage," by Laura Huang, and with permission of Portfolio, an imprint of Penguin Publishing Group, a division of Penguin Random House LLC. Copyright 2020.
Mackenzie Scott, billionaire ex-wife of Amazon founder, gives another £2bn to Charity
Billionaire MacKenzie Scott, ex-wife of Amazon founder Jeff Bezos, has donated another $2.7bn (£1.9bn) to a range of charities.
Ms Scott said in a blog post that she wanted to give the money to those "that have been historically underfunded and overlooked".
She wrote that she had chosen 286 organisations working on racial inequality, the arts and education.
Ms Scott is one of the world's richest women.
Much of her fortune comes from her 2019 divorce from Mr Bezos, who is currently the world's richest man.
As part of the deal, Ms Scott ended up with 4% of Amazon's shares, having helped Mr Bezos start the technology giant in 1994.
The author has since posted about her charitable donations, such as in December, when she revealed she had donated more than $4bn in just four months to women-led charities, food banks and Black colleges.
Despite the size of these donations, she is still the world's 22nd-richest person, worth $59.5bn, according to Forbes.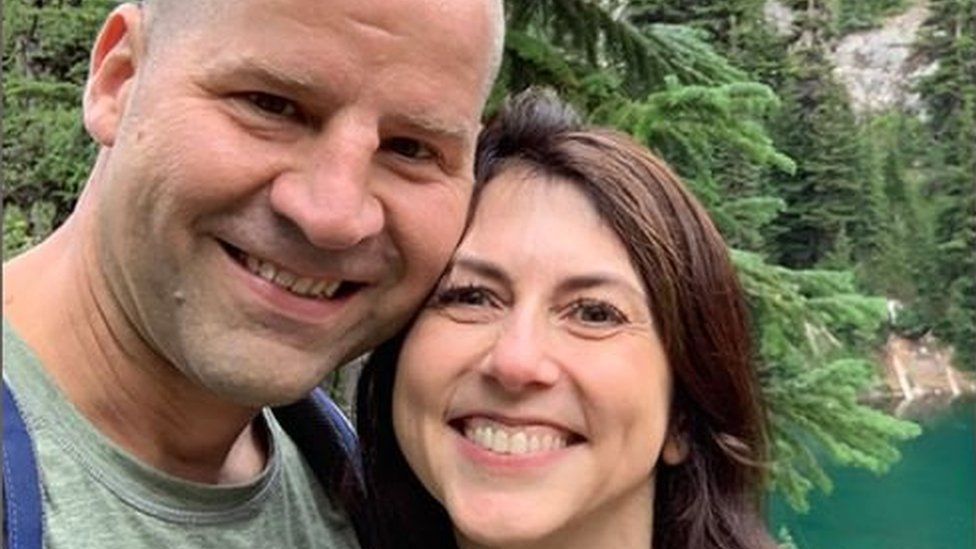 In her most recent blog post on Tuesday, she said again that she was keen to redistribute her wealth, having worked with a team of researchers and her new husband, science teacher Dan Jewett, to pick who to donate to.
"In this effort, we are governed by a humbling belief that it would be better if disproportionate wealth were not concentrated in a small number of hands, and that the solutions are best designed and implemented by others."
Among the charities and organisations who received the "relatively large gifts" were also those working on "bridging divides" between different religions, as well as some colleges and universities.
In 2019, she signed the Giving Pledge, promising to give away most of her fortune.
The Giving Pledge is a commitment by the world's richest individuals and families to dedicate the majority of their wealth to giving back. It was started by Bill and Melinda Gates and Warren Buffett in 2010 and other signatories include the likes of Star Wars creator George Lucas.
Mr Bezos has not yet signed the pledge, although Mr Jewett joined in March.
He said in a letter: "In a stroke of happy coincidence, I am married to one of the most generous and kind people I know – and joining her in a commitment to pass on an enormous financial wealth to serve others."
NBC
"A SUPERSTAR MADE IN LAGOS": Wizkid talks music, love, being a father
Nigerian singer and songwriter, Ayodeji Ibrahim Balogun, professionally known as Wizkid talks about love as the greatest religion he worships, being a father before anything else and more as he marks the 10th anniversary of his first album "superstar".
The multitalented singer said this in an interview posted on his YouTube channel over the weekend where he gave insight on his upbringing; being the last child of his family and how growing up in a spiritual family in Lagos opened his minds.
The "Essence" singer and father of 3 stated that family is the most important thing to him and recounted how keeping family together was an inestimable value his parents instilled in him and how he talks to his son everyday.
The Grammy winner thanked his former label Boss Mr Bankole Wellington for carrying him under his wings like a brother and believing in the vision which he said, was the beginning of his rise to stardom
He said, "Lagos is what defines me and that is who I am, everything that I am today is the stuff that I learnt from that side.
"I grew up in Surulere and spent most of my time there. I was born in Alaba, it was amazing for me. I still sometimes just have flashbacks anytime I'm in the studio. My house was a fun house, that is why I have many stories. I was the last child of the family; I wasn't the last spoiled baby but I got my way sometimes.
"Growing up in a very spiritual home in Lagos really opened my mind, my Dad is Muslim, my mum is Christian. I used to go to the mosque with my dad and church with my mom, so that really opened my mind to see that the biggest religion is love; that is the biggest religion that I worship, that I follow, that I preach, that I eat and sleep – love.
"The most important thing to me is family, I'm a big big family guy. My son is like my best friend, he calls me everyday, like I talk to him everyday. We have the craziest conversations, he is 9. It is just very important to keep together and that's one thing that my parents always instilled in us to understand that there nothing more important than family
"Fatherhood means everything to me; like me being a father. Before I used to see myself like oh! This is Wizkid, I'm a musician but when I had my kid, I'm a father before anything else and I'll do anything for my kids, like I will stop the world if I can for my kids. That's the kind of father that I am; they mean everything to me, everything.
"Me getting signed with Banky was one of the best things that happened to me. It was just an amazing moment for me, it changed my life. I want to thank Banky for understanding the vision and taking me under his wings like his little brother because that was exactly what he did for me and I knew me getting signed was the beginning of me having to prove myself so it was very important for me to get work done so I was in the studio everyday, even when I wasn't invited I was just there. Everywhere I knew they were making music I was there, if it had to do with music you would find Wizkid there."
The Afrobeat singer shared his experience in making his first album which he said has a combination of different genres of music, ranging from, reggae, dancehall etc, targeted at showing his musical prowess and ability to think outside the box.
The self acclaimed Starboy talking brand Wizkid, said that the brand is one of the biggest companies and he doesn't joke with his name because it is not just a name, but a brand.
"From my first album I made songs like "Joy" which is like a reggae song from early. From my first album I have always wanted to show people that I make different types of sound. If you listen to my first album it's got "joy" on it; reggae song, It's "don't dull"; which is a Naija song, it's got "tease me" which a dance hall, we have "pakurumo" which is a local song, "love my baby" which is a love song. To me every time I make an album I like to bring a little piece of everything I can make as a musician inside it, that is why when I go to the studio I always try to keep thinking further, keep evolving as a musician. I always like doing something for a purpose .
"When I had the option of doing the show at the O2 I had the option of doing it by myself, like a headline show but it is bigger than that, "i am here for the culture cos that's what I see. I believe in togetherness, I believe in unity, I believe in moving in numbers; I've always been a numbers guy, I've always been a crew guy; that is how I grew up.
"Brand Wizkid is one of the biggest companies ever. Brand Wizkid is one of the solid brands that's why I don't see Wizkid as a musician, Wizkid is a brand. Wizkid is not Wizkid. That's why when you talk about Wizkid you talk about Wiz, you talk about Surulere, you talk about Lagos, you talk about Africa. That's a whole lot that's why I treat it as a brand. I don't joke with my name cos that's a brand," he said.
Mr Ayo further revealed how he had changed the content of his recent legendary album "Made in Lagos" over and over, stating that if the music didn't feel right, he would never let it out to the public.
According to him, the album "Made in Lagos" was to let the world and his fans know that beyond the local sounds popping on radio, he, being born and raised in Lagos, could make amazing music.
"I make too much music , I'm always in the studio every night. I have like 5 different folders that have "Made in Lagos" in them that I've changed more than 5 times cos I'm a musician musician,if it doesn't feel right I'd never release the music so I had to make sure I worked and pushed myself musically.
"So me making an album made in Lagos wasn't necessarily for me to make a local sound that's popping on the radio right now cos I don't listen to what's on the radio to make my music or my album. My album is just to show people that I'm made in Lagos, I'm an artiste born and raised in Lagos, lives in Lagos and I can make amazing music," he said.
Nigerians React To The Viral Video Of Burna Boy Using His Grammy Plaque To Drink Champagne At The Club
Grammy award winner, Burna Boy has caused a stir on social media following his decision to drink Champagne from his Grammy Trophy.

We earlier reported that the African Giant has received his Grammy Plaque for "Best Global Music Album " following his victory at the 63rd Grammy Awards. We also shared exclusive photos of the golden gramophone and his heartfelt appreciation to fans and well wishers.
To celebrate the arrival of the award, Burna Boy and his team paid a well deserved visit to the club to have fun.
However, Netizens took to social media to react after a video of Burna Boy drinking expensive Champagne from the Grammy plaque hit the internet.
Many have condemned his actions and tagged it as a disrespect to the Grammy organizers. Some netizens are of the opinion that Burna's drinking escapade will be a reason other Nigerian Musicians won't receive a Grammy next year.
Surprisingly, Burna Boy isn't the first Artist to see the Grammy plaque as a multipurpose object. Recall in 2020, Kanye West urinated on his Grammy plaque after he received it from the organizers. In 2021, Beyoncé's daughter, Blue Ivy, spilled Juice from her Grammy Plaque.
Also in 2021, Burna Boy envisioned the trophy as a glass cup and drank Champagne from him.
1